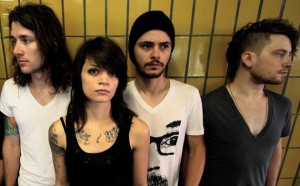 Bill Edwards, CEO of Big3 Records, recently signed Fit For Rivals, a rock band from  Jacksonville, Florida.
Prior to signing with Big3 Records, their first official single "Damage" was released in 2009. The second single "Crash" appeared in the pay-per-view WWE: Over The Limit. This song appeared in the movie Legendary. In 2010, Fit For Rivals wrote over 60 songs, recording only five of them.
The upcoming album is expected to have deeper roots in straight forward rock and roll, 1960s punk, and heavily influenced by the analog recordings of the past. This album will be recorded in 2013 at Big3 Records studio, Big3 Studios in St. Petersburg, Florida.
Click here to view "Damage" video
Click here to view "Crash" video